A Two Part Update On Endurance, Freedom, and What It Means To Have An Active + Healthy Soul
Endurance + Freedom: Answers from the Top of Mount Ollivier
Two thousand steps represent half way. Steps so steep you can stick your hand out and touch the old wooden stair case in front of you. After a discouraging few days of doctor appointments and excessive napping, I needed this. I wanted this. Edmund Hillary (the first man to summit Everest) started with Mount Ollivier, therefor no better place for me to redeem my strength. Gazing up at 1,933 meters of elevation gain, thirteen-kilogram pack strapped tightly around my waist, to divert the weight off my shoulders, I dug up every endurance story I could remember; I think I can, I think I can.
Taking my breath in through my nose and out through my mouth while quickly adding layers despite my body being soaked in sweat, we had crossed the snow line and were seeking a place to set up camp before finishing our climb to the top. The slop across the valley let go of a snow bank gliding into an avalanche. I listened as the crashing echo spread across the valley, completely calm. Without expectation it seemed as though my usually uneasy voice, had weakened.
Well aware of the life that is waiting for me at home, the one with textbooks and schedules. Goals and grades. Where the present doesn't seem to be full of anything except preparing for the future. But for now I am here, sipping orange tea on top of Mount Olivier, while the cloudless sky relieves the sun and welcomes the milky way. Distracting me from the cold toes in my already worn boots, pastel colors outline the southern alps, challenging every way I have attempted to define life.
How lucky am I to indulge in such freedom?
Signifying my love for this freedom, my nights have been filled with dreams of waking up in the states, trapped in a room with heavy text books and color coded calendars, (the US President always seems to be there too, but I'll spare you my political nightmares for the time being). In these illusions, I am not reading the books or planning out my days, I just sit there, sulking in my incarceration, saddened by lack of adventure.
Waking up to the purr of an Alpine Parrot outside the tent window, the sun rises over the snow covered mountains. Warmed by the two down jackets, wool layers, and the steam of the dark coffee pressing in my palms, 'Don't go home,' my impulsive heart begs as it tugs on the sleeves of my thoughts. The pleading is nothing new, parts of me have always wanted to run to a new place, with a blank character and open future. No goals or dreams to disappoint, just me (whom I chose to be) and freedom.
Releasing their lock on dawn, my eyes wander the man standing in front of me, wrapped in a puffy coat and still memorized by the fierce glow of morning. Under those layers, there is a heart that isn't a day over five, still giggling at armpit farts, but a mind that can hold my hand while wandering into the deep unknown. Pulls of the fifth dimension, love, overwhelmingly remind me why I suppress the urge to run.
But what I think my heart is trying to convey, is that it refuses to beat to the rhythm of the future. Craving the relief within ambiguity. So, as much as I would love to announce that in light of my rejuvenating travels, I will be writing my way around the world, that isn't the case (but oh, do I dream).
In one way or another most have heard that the best view come from the hardest climbs, but I think, for the first time, I fully understood the wisdom behind that; sometimes, the best way to defeat our metaphysical demons, is by conquering the tangible hurdles first, reminding ourselves of the strength we possess. Not lost to illness or hardship but forgotten in their haze, the revived strength reveals a clear and balanced view of the worlds occurring both in and out of the body. Sometimes, freedom requires endurance.
An Active Soul Is A Healthy Soul
I often find myself in disbelief that the nature here occurs on its own, and feel as though I'm in my own version of The Truman Show where the land is actually a man-made set. Or maybe, mother nature just knew that building such a small country on a massive fault line meant she needed to include something extra, to allow her people to escape from what seems to be the never ending ruins.
Once again, New Zealand's beauty forced me to ponder relevance and harmony.
Sheltered by the cloudless sky, we set up a place to climb. On the top of this particular route, I wiggled myself around the rope and peaked down to see what I had just accomplished, though was distracted by the indigo ocean dancing on the pale beach. Not deeply invested in the sport of climbing myself, I imagine this is a climber's dream.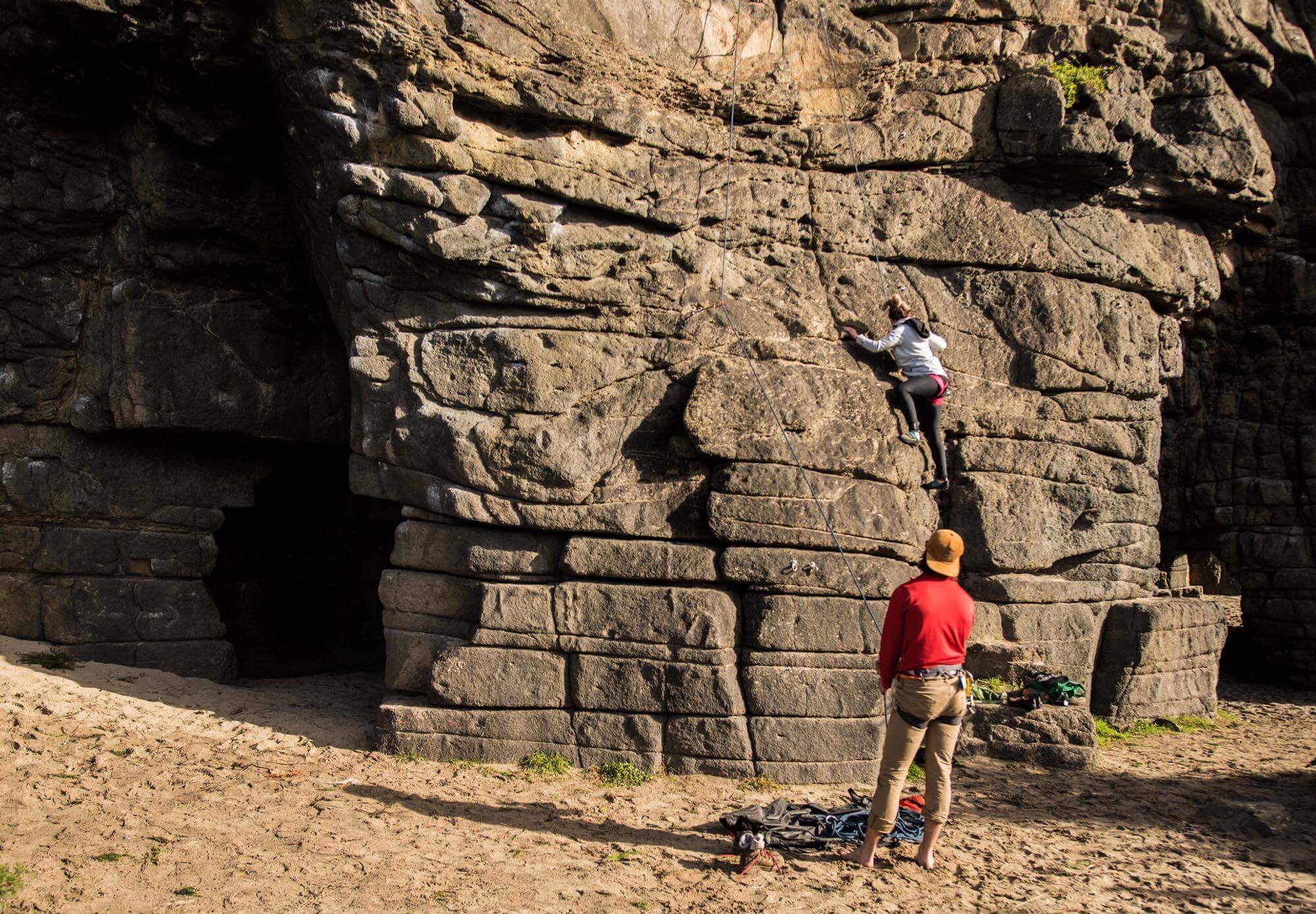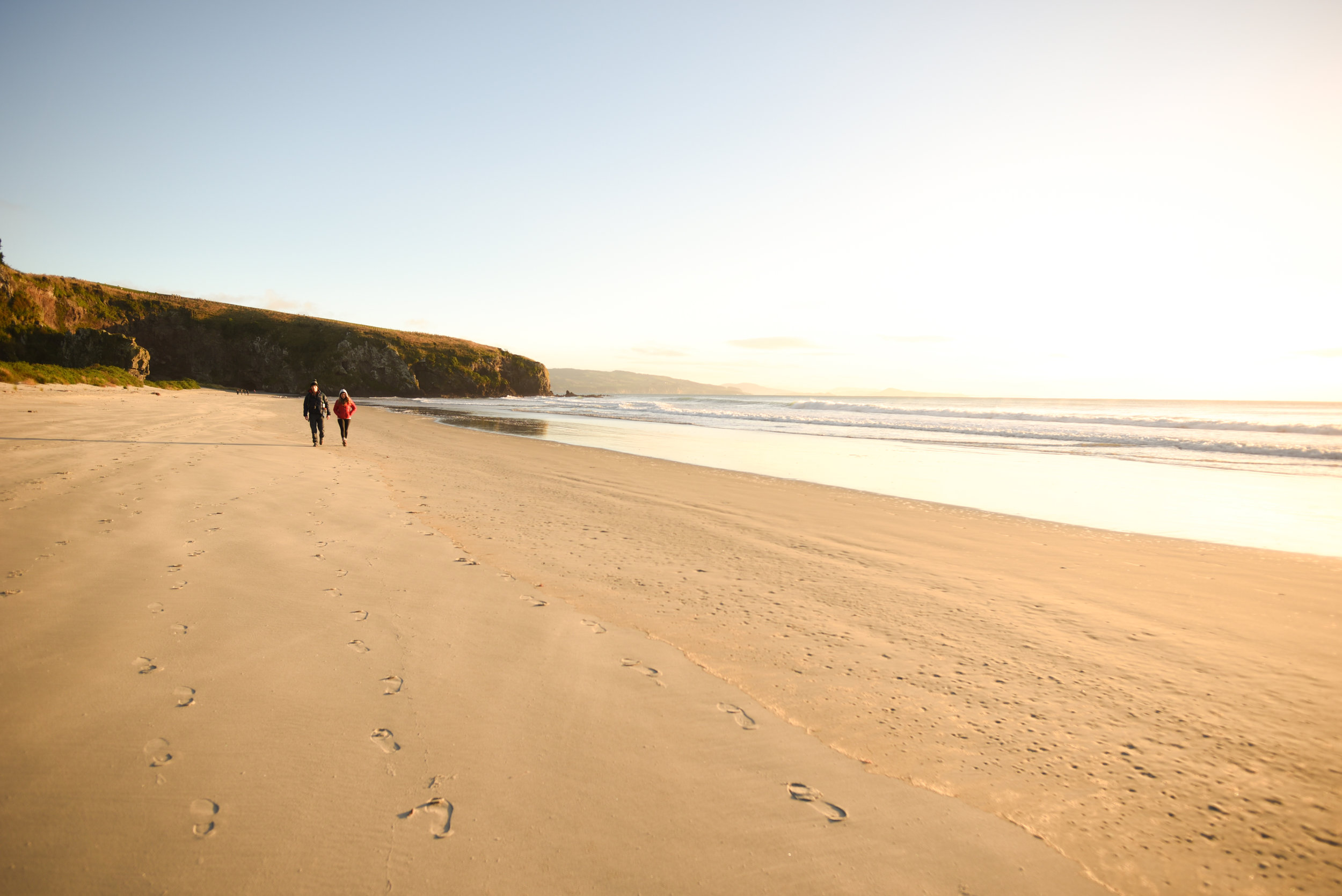 Limp arms and gear covered in sand, we headed to the large cave where we had hidden our packs. Shinning a light around the corner, we discovered a little blue penguin had become curious of our things. A penguin. A real life, non-caged, free, wild penguin just inches away, shaking its little tail for our amusement. Quietly, we began to set up camp, only to discover three more penguins had joined us in the sea carved cavern. It's a funny thing these birds, so vulnerable, yet brave. Only protected by the hope that the color of their backs blends into the dark walls and shadows. How can we, as humans, be so scared of so many things, so scared we hide from life, yet a penguin, constantly at high risk of death, continues to swim across the oceans or explore human infested caves. How have we evolved so poorly that we let fear hold us back from living?
Warmed more by our efforts to keep our high maintenance fire going than the actual flames themselves, we curled up in our make shift camping chairs and began reflecting back on the weekend. Grateful for our impulsive decision to stay an extra night in Dunedin; we checked off bucket list items we weren't even aware we desired. From across the fire, I listened in to a theory on moments like these, Check points are an essential part of making the most out of each moment. If you plan everything out, it won't ever work out this good. Staring into the quickly dying flame I contemplated the depth of such advice. I've been searching for a way to describe the power of spontaneity, and suddenly it seemed as though the answer was echoing around in the cave.Vague plans diminish expectation and allow flexibility, ensuring the most extraordinary adventure.
Sometime around 4am, brassy shrieks rang from the back of the cave. Good morning the penguins seemed to be saying as they waddled onto the beach and sloshed around in the water until the waves pull them out to sea. So helpless, but so trusting. Among all the defenseless qualities humans posses, we must remember that, like these small penguins, we are equally resilient, and therefor have nothing worth fearing.
Wide awake, we prepared for daybreak. Slinking into my warm bag on the fluffy sand, coffee leaking into my veins, the sun exploded over the sea and into the clear sky. Each weekend has been filled with sunsets and sunrises, memorable by the unique scenery they individually lit up. But this glow had an after-taste so delightful, so elegant, I won't ever be able to forget.
Focusing on the distinct colors in the sky, I began sewing together the thin layers of thoughts still lingering from the night before. Profound, yet incomplete. Remembering a Māori (New Zealand's Native language) proverb I'd discovered a few days before: Maurì tū maurì ora meaning an active soul is a healthy soul. Healthy gripped my attention and I began to stitch in the final thoughts of this adventure; whatever you are seeking, whatever is missing from your life, whatever part of you needs healing,the remedy is in the active pursuit of adventure.
As always, words woven so beautifully together by the amazing Kourtney through her blog, Mountains + Valleys. We are oh so grateful that she has been sharing her adventure with us.
You can follow along by clicking on either of the links above, though I highly suggest you bounce between both. Also, the photographs taken in the second section of this post are by, Chet K. Stefan